Putting a special focus on accessories and the characteristics they each display, here's a collection of colourful pieces perfect for your wardrobe as we transition into the colder months. Tones, lighting and various materials highlight each item in balanced unison by accenting and contrasting them with their surroundings.
We were lucky to have been given two pairs of glasses by Toronto eyewear company MarsQuest that we could include with a couple other accessories we were inspired by. Only one year into the business, the company brings together superior quality at a price that wont empty your pockets.
The combination of the Jet Black x Ruby frames makes for an intense and vivid look. It's hot and fiery, no messing around. These glasses are daring and arrive in red to make a statement. With a strong attitude, a sleek design and red tinted lenses, these glasses are a part of the MarsQuest Gravity collection.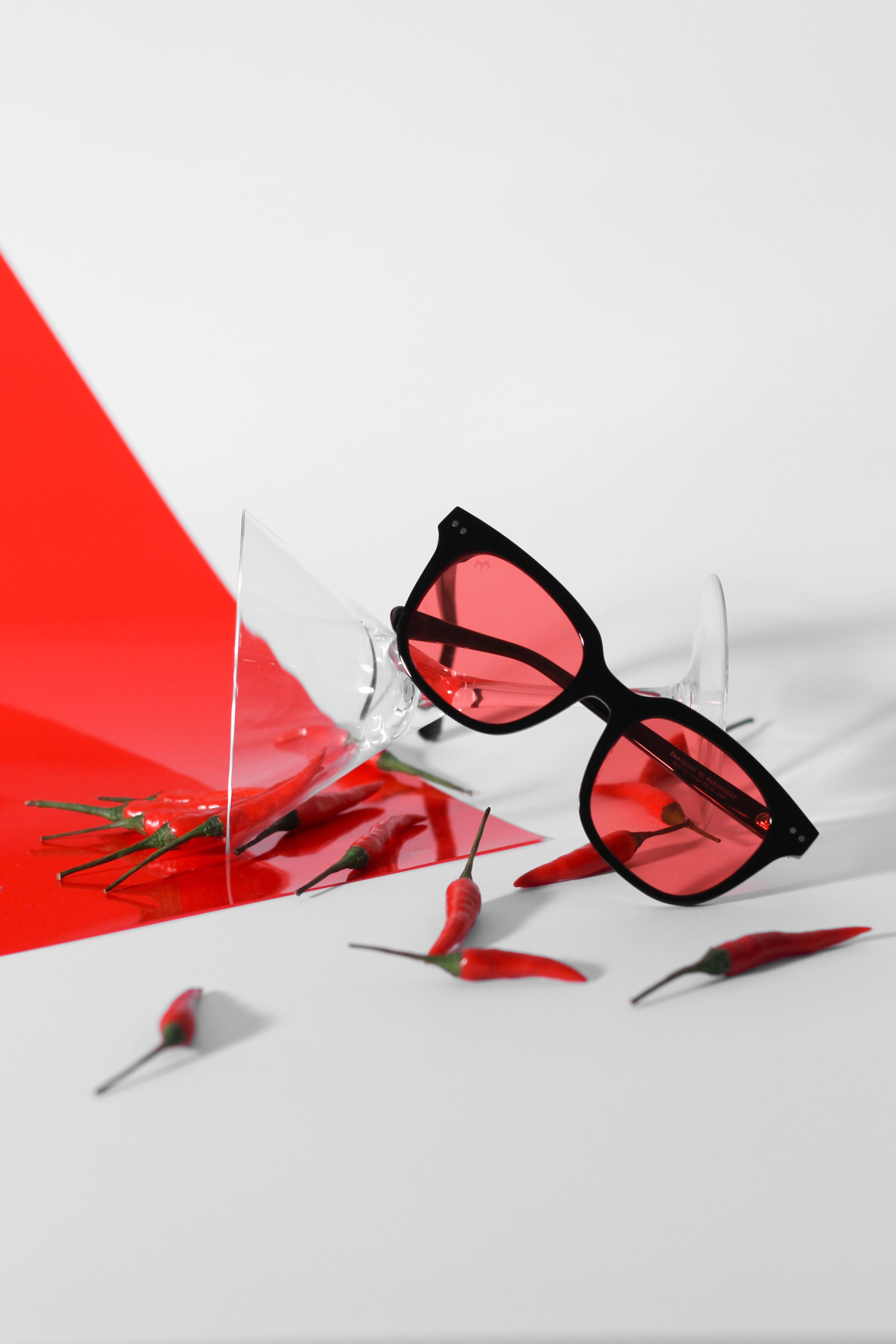 This Anthropologie Linked Lucite Wrap Bracelet is clearly (literally) modern elegance in its purest state. Formed with transparent rings, both warped and intertwined, it showcases the rise that transparent jewellery is currently taking in the world of accessories. With such a recent comeback in fashion, take advantage of its versatile material ranging from fun and quirky to modern and timeless.
Originally inspired by the yellow tint of the lenses, we thought a lemon and lime would complement the wood hues of these Havana x Umber tortoiseshell frames. The warmth from these glasses remind us of summer relaxation as the sun descends from above (and we might have even used these citrusy fruits to make a gin and tonic afterwards).
Pink is powerful. There are many lovely shades of the hue, but this one packs a solid punch. Our Editor-in-Chief, Nabra Badr, supplied this vintage belt straight from her mother's closet: offering a transparent plastic that's both retro-chic and pretty in pink. This would be a great statement piece for a minimal outfit or even added into a whole combination of flashy, eclectic "lewks" to create something wild.
Produced by Iain Ailles & Nabra Badr