Ryerson is a great campus to people watch. With a student body filled with creative and inventive minds as well as our own fashion program, it's always interesting and inspiring to see how other people dress themselves. Toronto is known to be on the forefront of what Canadian fashion is, and what a better place to observe what's hot and trending than a university. The students of Ryerson are a good representation of current fashion and what new styles are being driven forward.
Ryerson became an official university in 1971, yet students have been attending the technical institute for decades prior. Taking advantage of the Archives department in Ryerson's library some photos were found of students from previous years providing a perfect snapshot of the fashion from that time.
The 50's
A decade of class and simplicity. After Christian Dior had set off a revolutionary 'new look' in his 1947 show, his designs inspired those on both sides of the Atlantic. Although you may not have not have seen Ryerson students walking around sporting a Dior suit, the fashion house had a major influence that trickled down to "return to an ideal of civilized happiness" said Dior himself which very much reflected the style of the fifties. As seen in the cafeteria line, woman wore simple skirts, some with pleats and paired with button-up layered with a jumper on-top. An icon off the 1950's was the black and white saddle shoe. You could compare their popularity to a pair of Nike Air Maxes. Men as well as women were dressed conservatively sporting the button up and jumper too, but rather with a pair of slacks and dress shoes. In colder weather, a fashionable choice was to slip on a long coat. Completing the clean-cut look, a long coat is a piece that has retained its freshness for decades.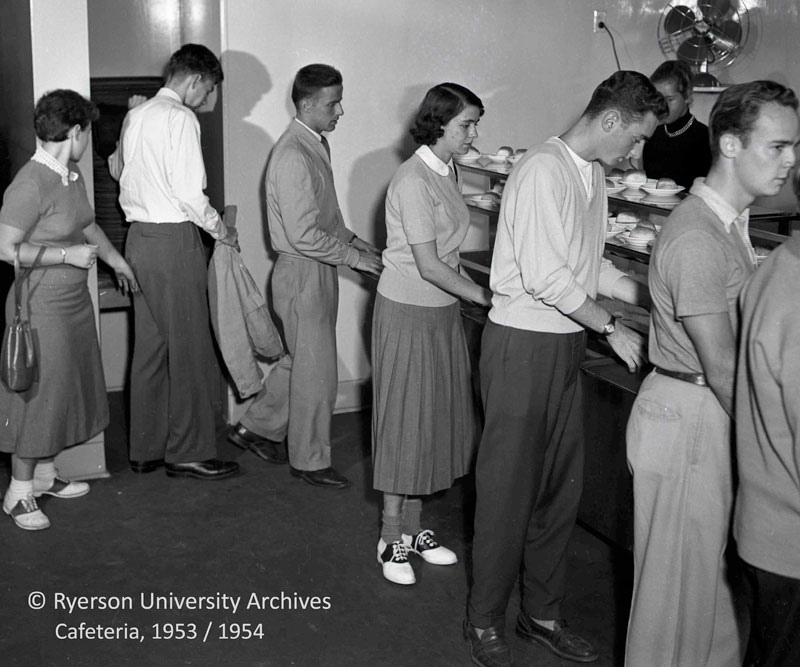 The 60s
Although these photos are still monochrome the 60s were a transitional decade bringing fashion out of the conservative styles of the previous years. Shorter hemlines, more voluminous hair and eclectic patterns served more casual looks day to day. Dressed nicely for the radio broadcast, the guy below is suited in sharp black including the dress shoe, resembling a member of the Beatles who at the time were the biggest celebrities in the scene. In women's fashion, formal, fit-flare dresses and skirts of the fifties were pushed aside to make room for casual dresses with more room and less form-fitting shape, such as the long-sleeved trapeze dress seen on the woman radio announcer. For a more casual look to go to a dance in the Kerr Hall gym, sport your favorite cat shirt. The sixties brought increased amount of liberty in fashion and culture as this woman doesn't seem to have a problem kicking her heels off.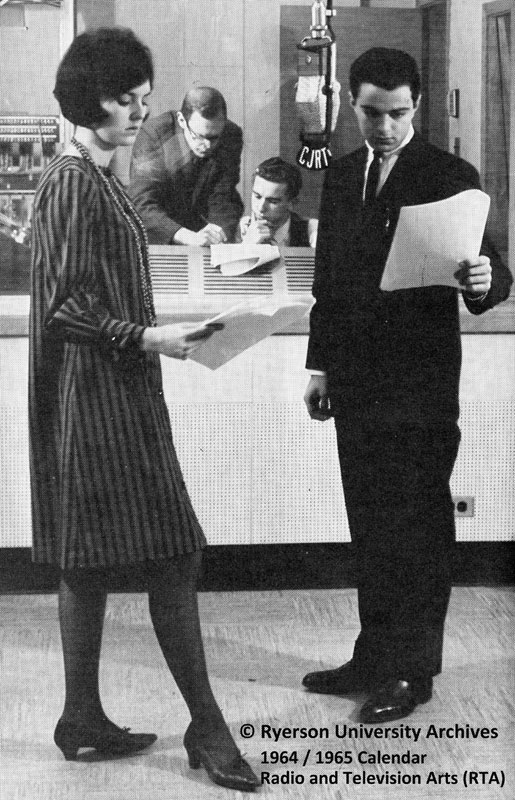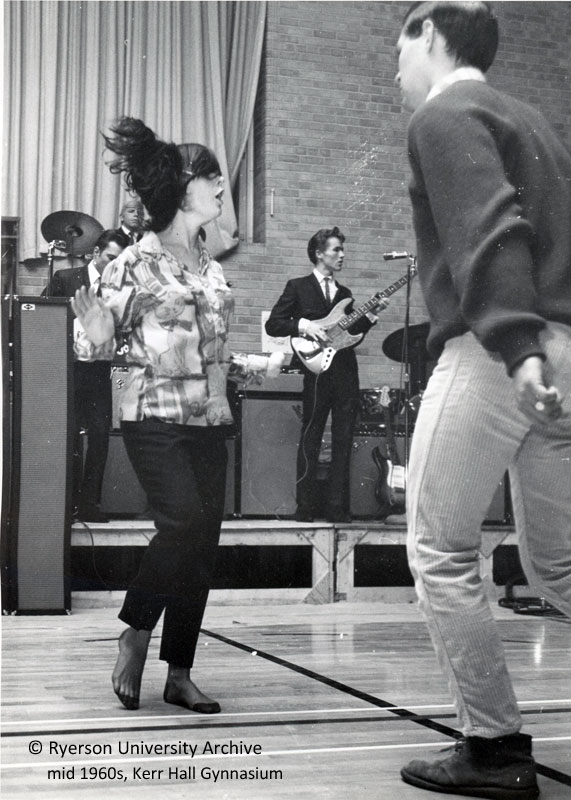 The 70s
Although this was before the days of struggling to navigate the RAMMS portal, there's nothing pleasant about dealing with Ryerson Registrar. However this woman is dressed at ease in a long floral patterned dress and hair left flowing untouched. It may remind you of the of something that would be worn by hippies in the previous decade, but their style and loose floral dresses to the floor were carried on into the the seventies. Trademarked as being the poster girl of hippie fashion, Joni Mitchell, a Canadian musician was one of the style icons of the of this time, giving inspiration to woman across the country. Something to point out is the portable cassette player hanging off the guys belt in the photo below, this has to be the best accessory of this photo series. The bellbottom pants seen on the guy below are also an iconic piece in seventies fashion, some say they should never be brought back, yet in some areas of fashion they are making a reappearance with the rebranded name, 'flared trousers'.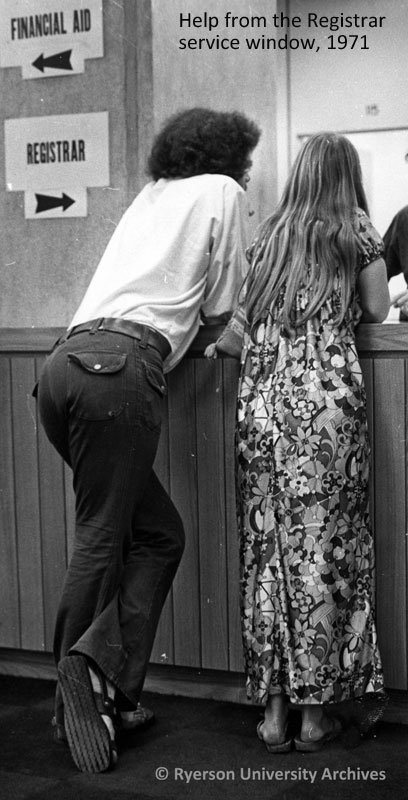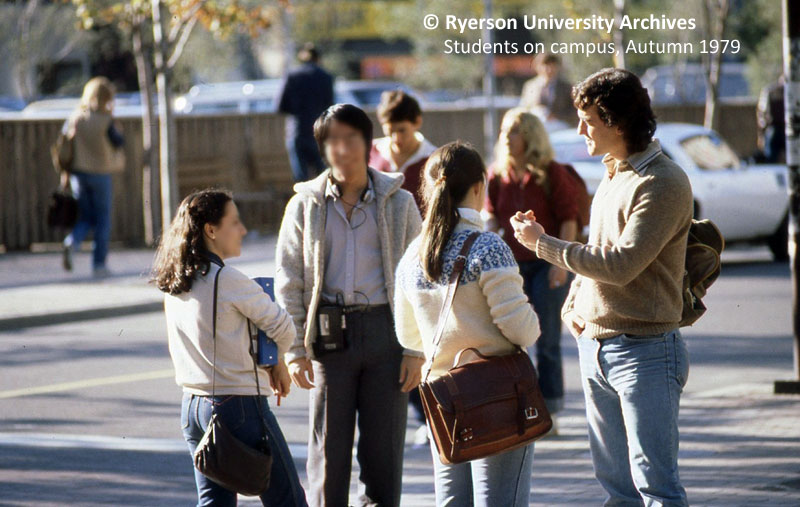 Moving away from dress slacks, men and woman have both switched into wearing denim and casual pants around campus. The seventies were times of increasing freedom that skyrocketed from the last decade as well as a new sense of identity making it a time known for increasing personal expression in comparison to older times.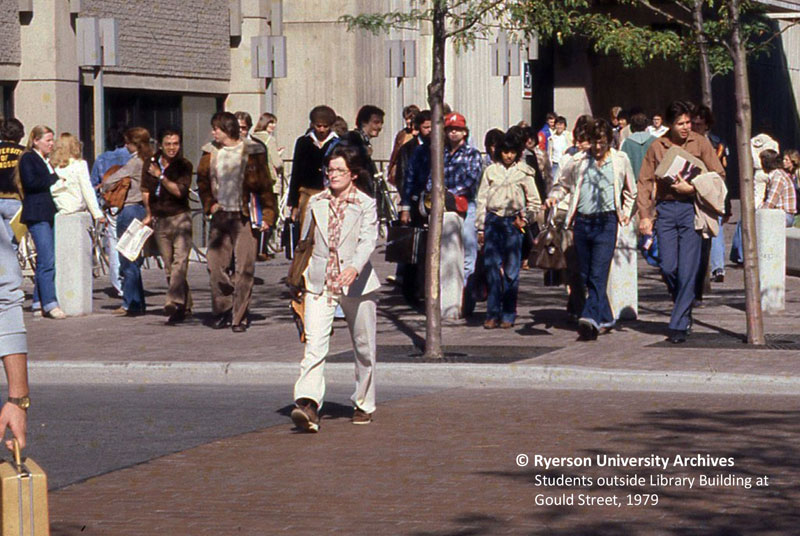 The 90s
As we all know the 90s are ICONIC for fashion and style. But why? Something about the inspired looks from stars of the time, when pop culture had become a large focus for youth. Musicians like Gwen Stefani, movies such as Clueless and models like Kate Moss were seen everywhere influencing everything. There were many different styles in fashion that made this decade notable, but clearly this photo below displays what we call street style. Taking off from the 80s, street style became ever more inspired by hip-hop culture and artists like Nelly, TLC and Dr. Dre for example causing a great impact on style in the nineties. Key-words: baggy & oversized. Maybe this isn't a good representation of the average student's fashion on campus near millennium, but it does show hip-hops great influence.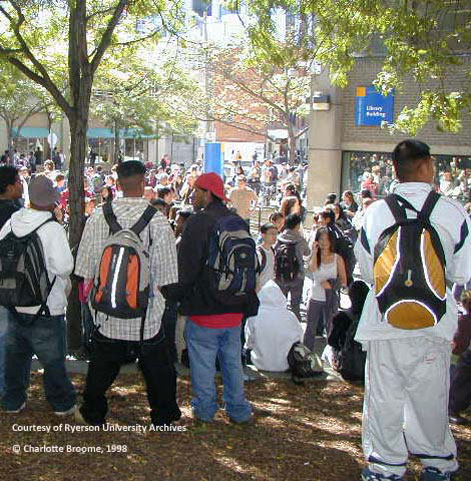 Today
Its interesting to look back in time and see the fashion from the past, and whatever else you can tell about the times from these photos. It's even more intriguing when they're in a familiar setting. The best part about fashion at Ryerson today is variety of styles and culture from all areas seen everywhere on campus. In today's age, social media has completely changed how fashion works. With the amount of connection and how easily accessible the infinite online network is, people take inspiration from anywhere and are not stuck with what a store provides them. Whether it's a celebrity, a stylist orwhat your friend just posted on Instagram, being inventive with clothing has become all that much easier with social media. Street style is taken very seriously by designers these days, and you can easily find a collection of sneakers, bombers and generally more street oriented clothing at most retailers.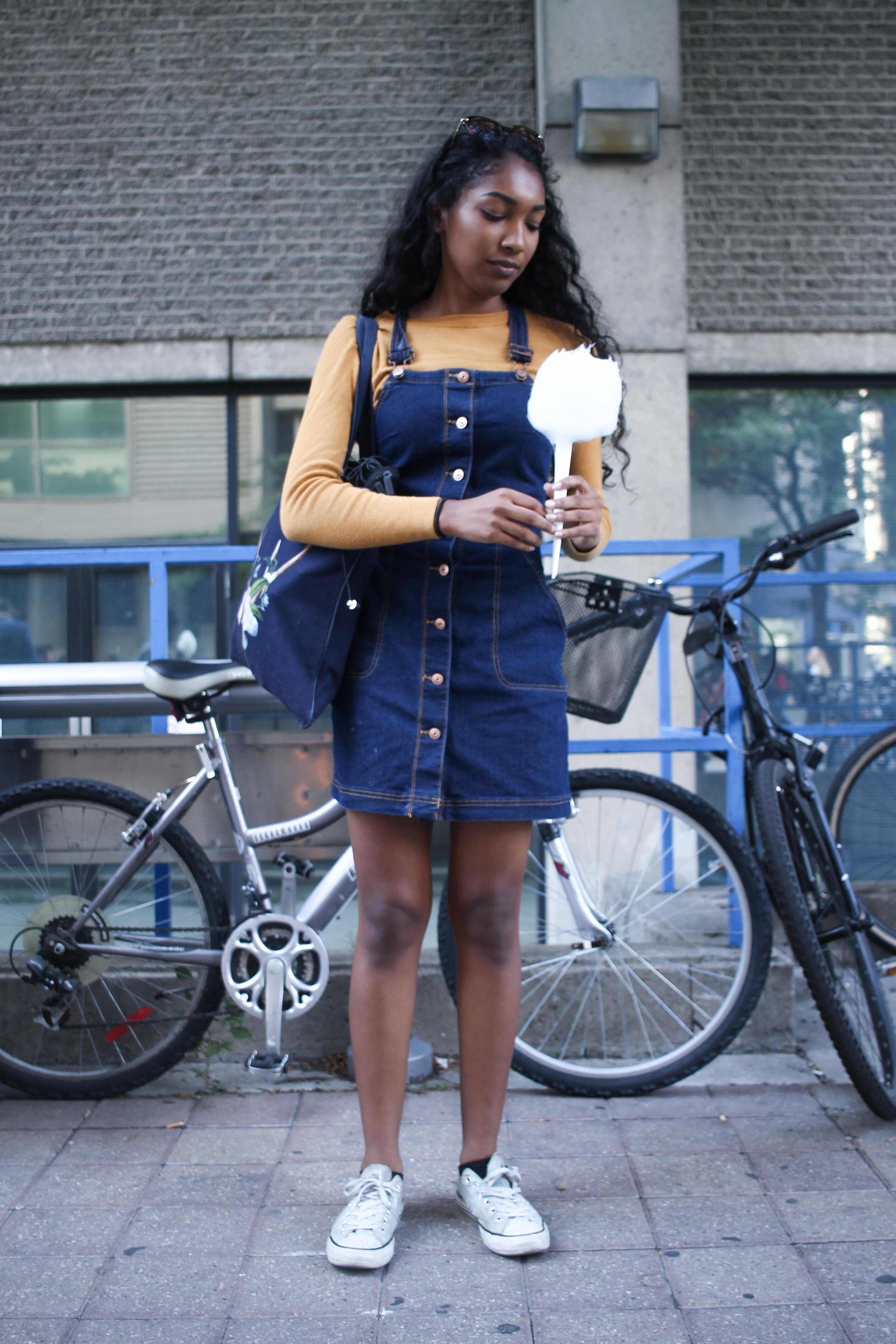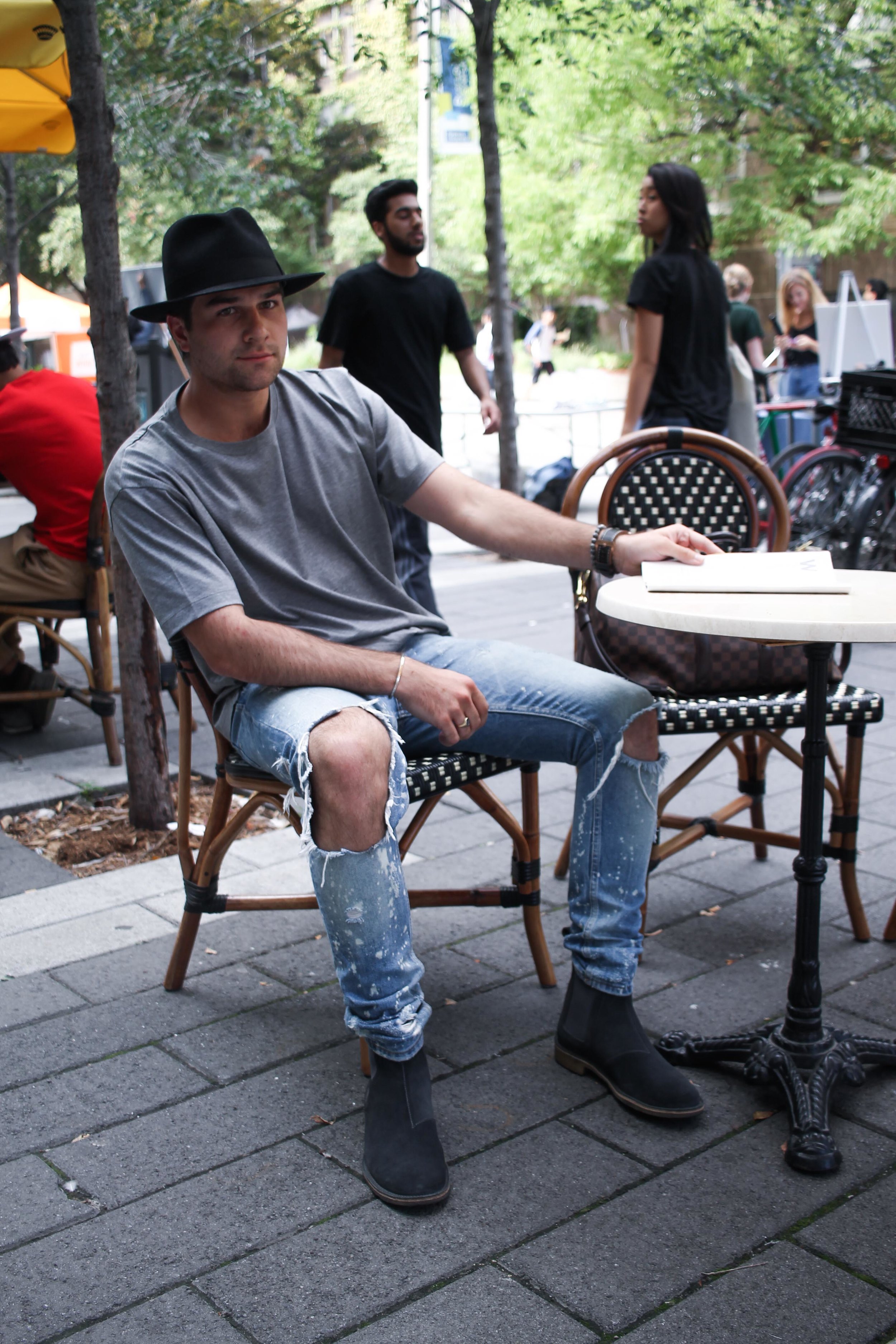 Some may criticize youth for their lack of care for garments, buying ripped jeans and oversized ill-fitting garments, but who's to say what fashion really is? As you can see from this collection fashion will always be changing, however Ryerson will always be a leader in displaying what fashion is today. There isn't one solid trend you'll find on this campus, you can say confidently that Ryerson has the most diverse mix of styles in the country. If you find you have some time to yourself on campus, grab a coffee at Balzacs, sit back and get inspired.