A Ryerson Fashion Communications grad and RADmag's very own former Art Director, the highly talented Kelly Nguyen describes herself as an "illustrator and digital art director/content creator". She now works at John St. Advertising in downtown Toronto- a self proclaimed creative collaborative agency. Take a look at our interview with Kelly for her take on branding, inspiration, and adapting to the (oh-so scary seeming) real-world out of University as well as some of her very own designs.
How would you describe your time at Ryerson in terms of preparing you for the creative industry?
To be program specific, in Fashion Communications we had a chance to explore multiple creative techniques, all of which made me and my skill what I am today. Dabbling into a bit of everything allowed me to understand different mediums and develop an eye accordingly. I think preparing for our year end shows had a huge impact as well. Spending a full year developing a creative concept of your very own gives you that sense of independence and professionalism that can be taken further into the industry.
How has the transition been between school and the industry? What would you say has been the most difficult part?
It's been relatively smooth but can still be a little intimidating sometimes. I often get that lingering thought that "this is the real world and people are depending on me to do my job well," where in school I could make a mistake and know that I'd still be "safe" on some level.
What about adapting to your job?
To be honest it wasn't as difficult as I thought it would be. I think if you know what you want and know what you're good at, finding a job that speaks to those things feels second nature.
Let's talk a little about branding- how much effort do you think you dedicate to creating an aesthetic?
My work ranges a lot because I go from illustration and graphic design to art direction in photography and editorial. So I'm always trying to find a way to balance both and figure out how I can turn that into my own brand and aesthetic.
How does your job inspire your personal brand?
Right now I work in advertising which means I'm involved with multiple brands. Not all of them inspire me, but they do allow me to understand how to cater to different markets and personalities. I think because what I do here is a little different from what I want my brand to be, it gives me the chance to take a step back and look at my personal work in a different perspective.
It's pretty easy to find inspiration- but how would you say you channel inspiration?
Sometimes you just have to let your mind wander and put things together that may not necessarily go together. Often times the most interesting things are the ones that don't really make sense, but do once put under a different light.
That being said, what's one creative piece that really inspired you recently?
I've been quite obsessed with the new Kenzo perfume campaign directed by Spike Jonze. It takes the ideal Kenzo woman, someone who stands out from the crowd, who is energetic and quirky, and puts it into this unexpected short film that doesn't seem to have much context until the very end where Maragret Qually jumps through a gigantic floral Kenzo eye.
We hear you did a semester in Amsterdam, what did you take from the experience?
YOLO, seriously. My semester in Amsterdam is a huge part of who I am right now. I used to be extremely introverted and very afraid of taking chances, and then I went to Amsterdam and was forced to be out there, to make something of myself in a place where I didn't really know anyone or the culture. And then being in a program where they so heavily push creativity and conceptual thinking, changed me in the most positive ways possible.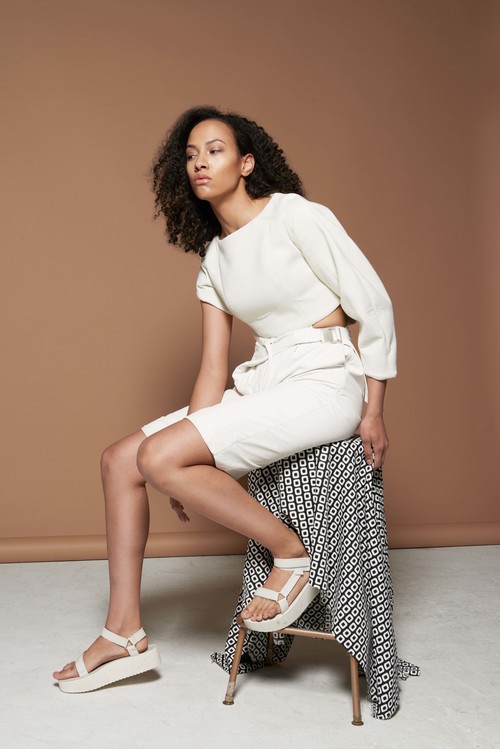 Do you see yourself ending up in Toronto? If not, where?
I see myself going back to Europe or somewhere in the states like L.A or New York. It's good to challenge yourself with a change of pace. At the end of the day though, I think I'll always come back to Toronto because it's home.
To finish things off, what's one thing you think one tip every design student should know before entering the "real world"?
Surround yourself with fellow creatives and be open to criticism. Look to the people who you can trust to be honest with you. There's nothing worse than being put on a pedestal and then falling off of it when you enter the real world. Know that anything can be a learning experience.
What about one design product must-have?
A good old sketch book. Take the time to reflect on things that inspire you in a doodle or words.